"The Cross" 91.7 FM Hannibal Missouri
Basic Question: How do I become a Christian?
To desire to be a Christian is to desire to be a child of God, to be a person in a personal relationship with God.
To become a Christian is to partake in the actual event of receiving God, the Holy Spirit within our own human spirit, therefore creating a new Spiritual life inside of us. It is this Spiritual life that unites us and makes us a child of God our Father.
In other words Christianity is not an Idea nor a Philosophy. Christianity is an event, specifically the event of God giving us each personally a new Spiritual Birth. This new Birth is also called "Born Again" or "Born from Above" event.
John 3:3 Jesus answered and said unto him, Verily, verily, I say unto thee, Except a man be Born Again, he cannot see the kingdom of God.
2 Corinthians 5:17 Therefore if any man be in Christ, he is a new creature: old things are passed away; behold all things are become new.
Christianity is the series of actual events that are occurring throughout history.
The Bible tells us what the basic series of events are that make Christianity real time events and not ideas or philosophies about life.
God created mankind to live forever so that we can get to know God forever.
Mankind disobeyed God and entered into a relationship with sin and with sin came death (separation from God).
Mankind is now separated from God. God then came to mankind by taking on the form and appearance of a human. God became a human to interact with humans on a human level.
God's entrance into the physical world as a physical person was accomplished via the Virgin Birth.
Jesus then died on the cross. Sin requires death and only through death can sin be completely removed. To die is the end and fortunately for us the death of Jesus on the cross is the end of sin as it is His death that we acknowledge was for us. Sin is dead and never to be resurrected again.
Three days later Jesus Resurrected from death to Life providing the opportunity for a new Spiritual life for us in the Resurrection Life of Jesus.
1 Corinthians 15:1-4 Moreover, brethren, I declare unto you the Gospel which I preached unto you, which also ye have received, and wherein ye stand; by which also ye are saved, if ye keep in memory what I preached unto you, unless ye have believed in vain. For I delivered unto you first of all that which I also received, how that Christ died for our sins according to the Scriptures; and that He was buried, and that He rose again the third day according to the Scriptures:
Gospel means Good News. Eternal Life in the Resurrection Life of Jesus Christ is the Good News of Christianity.
Since Jesus died for us there is only one thing for us to do and that is to Accept what Jesus did for us. This is called Faith and Trust. We have faith that Jesus is Alive even after He suffered and died. We have faith that the same Resurrection Life that Jesus now lives we too also live.
Faith is a wonderful thing! Faith is trust, we trust Jesus. Faith excludes works. It would seem natural to have to do something in order to gain the attention of God however we don't. We already have God's attention. What God desires is for us to have a personal relationship with Him. We can only have a relationship when we acknowledge the existence of the other person, in this case God.
When should we acknowledge God and become a Christian?
The Bible tells us that we are created to get to know God and that every moment in life is an opportunity to know Him. God wants very much for each and every person to acknowledge and to accept Him.
2 Corinthians 6:1-2 We then, as workers together with Him, beseech you also that ye receive not the grace of God in vain. For He saith, I have heard thee in a time accepted, and in the day of salvation have I succored (helped/aided) thee: behold, now is the accepted time; behold, now is the day of salvation.
In the Bible when people became Christians they took action, they got Baptized in water, fellowshipped with other Christians, prayed and read the Bible and served and proclaimed Jesus to others. They also took the very important step of destroying in fire the elements of their past life that are unpleasing to God. It is important to rid our lives of the old unpleasing ways and that means destroying whatever does not glorify God. Sometimes it's drugs, pornography, music, movies, books or clothing. Whatever it is, destroy it in acknowledgment that it has been destroying your soul and your relationship with God.
To become a Christian is to acknowledge that Jesus is God and to acknowledge that Jesus is Alive and with us at every moment. To acknowledge God is to talk to God, this is called prayer.
You can start your journey and talk to God in a prayer like this.
God I acknowledge you in the existence of Jesus and I acknowledge your Love for me to come as a human and to die on the cross for me. I too love you and I desire to live my life in a relationship with you. Thank you that you love me. Thank you that you hear me when I call upon your name. I accept Your death and Your blood as the full penalty for all of my sins and I acknowledge that by the blood of Jesus I am now clean. I ask that you, having cleansed me, will now in Your Spirit come into my life and make me Your child. God I give You my life this day to take and to do with whatever You will. I now walk in faith day by day and moment by moment in the love and Resurrection life of Jesus. To the glory of God and the praise of His Holy Angels and to the delight of all the Saints of Heaven I now confess that Jesus is my God, my Lord, my Savior, my Companion, and also my Friend. In the name of Jesus I pray. Amen.
1 John 5:11 And this is the record, that God hath given to us eternal life, and this life is in His Son.
Please follow your prayer by understanding the following.
1. Admit your need (I am a sinner).
2. Be willing to turn from your sins (repent).
3. Believe that Jesus Christ died for you on the Cross and rose from the grave.
4. Through prayer, invite Jesus Christ to come in and control your life through the Holy Spirit.
(Receive Him as Lord and Savior.)
The Roman Road to Salvation
The ROMANS ROAD….is a pathway you can walk. It is a group of Bible verses from the book of Romans in the New Testament.
If you walk down this road you will end up understanding how to be saved. Romans 3:23 "For all have sinned and come short of the glory of God." We all have sin in our hearts. We all were born with sin. We were born under the power of sin's control. – Admit that you are a sinner. Romans 6:23a "…The wages of sin is death…" Sin has an ending. It results in death. We all face physical death, which is a result of sin. But a worse death is spiritual death that alienates us from God, and will last for all eternity. The Bible teaches that there is a place called the Lake of Fire where lost people will be in torment forever.
It is the place where people who are spiritually dead will remain. –
Understand that you deserve death for your sin. Romans 6:23b "…But the gift of God is eternal life through Jesus Christ our Lord." Salvation is a free gift from God to you! You can't earn this gift, but you must reach out and receive it. – Ask God to forgive you and save you. Romans 5:8, "God demonstrates His own love for us, in that while we were yet sinners Christ died for us!"
When Jesus died on the cross He paid sin's penalty. He paid the price for all sin, and when He took all the sins of the world on Himself on the cross, He brought us out of slavery to sin and death! The only condition is that we believe in Him and what He has done for us, understanding that we are now joined with Him, and that He is our life. He did all this because He loved us and gave Himself for us! – Give your life to God… His love poured out in Jesus on the cross is your only hope to have forgiveness and change. His love bought you out of being a slave to sin. His love is what saves you — not religion, or church membership. God loves you!
Romans 10:13 "Whoever will call on the name of the Lord shall be saved!" – Call out to God in the name of Jesus! Romans 10:9,10 "…If you confess with your mouth Jesus as Lord, and believe in your heart that God raised Jesus from the dead, you shall be saved; for with the heart man believes, resulting in righteousness, and with the mouth he confesses, resulting in salvation." – If you know that God is knocking on your heart's door, ask Him to come into your heart. Jesus said, Revelation 3:20a "Behold I stand at the door and knock, if anyone hears My voice and opens the door, I will come in to him…" – Is Jesus knocking on your heart's door? Believe in Him. Ask Him to come in to your heart by faith, and ask Him to reveal Himself to you. Open the Bible to the Gospel of John and read what God says about Jesus, about you, and about being Born Again. God will help you. He loves you.
You need to look for a local church where God's word is preached. The Bible says that we are to desire God's word like a newborn baby desires mother's milk. Aren't you hungry to know the truth? Water baptism is one of the ways you first show that you have been joined to Jesus. This is an action, and actions will not save you. However, it is an act of obedience and a symbol of commitment.
The symbolism is this: When you go down in the water you show that You have been crucified and buried with Him, And when you come up out of the water you show that you have been raised to walk with Him in newness of life. (See Romans Chapter 6) You have been born again. (See John Chapter 3) Your body has become God's temple. Your heart is where He lives. Forgiveness is yours in Jesus. And you belong to Him. You were sin's slave. But now… You are a child of GOD! John 1:12 "As many as received Him, to them He gave the right to become children of God, even to those who believe in His name!"
first part of Message by David Anson Brown www.basicchristian.org
"The Cross" 91.7 FM Hannibal Missouri
CHURCH UNDERWRITING SPOTS
Should your Church choose to become a monthly underwriter of KJIR, we offer 16 spots for a $50 donation
These 30 second spots let the community know about your Church by giving information such as:
Church name, address, service times, scripture, logo, telphone contact numbers, website, greeting, etc., and that your Church supports local Christian Radio!
To take advantage of this great offer or get more information contact:
For Underwriting Call:
217-221-9410

"The Cross" 91.7 FM Hannibal Missouri
In Christian religions, hymns are usually directed toward God. Most Christian worship services have, since the earliest times, incorporated the singing of hymns, either by the congregation or by a selected choir, often accompanied by an organ.
Thomas Aquinas, in the introduction to his commentary on the Psalms, defined the Christian hymn thus: "Hymnus est laus Dei cum cantico; canticum autem exultatio mentis de aeternis habita, prorumpens in vocem." ("A hymn is the praise of God with song; a song is the exultation of the mind dwelling on eternal things, bursting forth in the voice.)
Since there is a lack of musical notation in early writings, the actual musical forms in the early church can only be surmised. During the Middle Ages a rich hymnody developed in the form of Gregorian chant or plainsong. This type was sung in unison, in one of eight Church modes, and most often by monastic choirs. While they were written originally in Latin, many have been translated. A familiar hymn of this type is the 11th century plainsong Divinum Mysterium, (although the words Of the Father's Love Begotten date back to around the 4th century), that is a common part of church Christmas repertoires in the English language.
The Protestant Reformation produced a burst of hymn writing and congregational singing. Martin Luther is notable not only as a reformer, but as the author of many hymns including "A Mighty Fortress Is Our God", which is sung today even in Roman Catholicism. Luther and his followers often used their hymns, or chorales, to teach tenets of the faith to worshipers. The earlier English writers tended to paraphrase bibical text, particularly Psalms; Isaac Watts followed this tradition, but is also credited as having written the first English hymn which was not a direct paraphrase of Scripture. Later, writers took even more freedom, some included allegory and metaphor in their texts. Four part harmony also became the norm, rather than unison singing.
Charles Wesley's hymns spread Methodist theology, not only within Methodism, but in most Protesant churches. He developed a new focus – expressing one's personal feelings in the relationship with God as well as the simple worship seen in older hymns. Wesley wrote:
Where shall my wondering soul begin?
How shall I all to heaven aspire?
A slave redeemed from death and sin,
A brand plucked from eternal fire,
How shall I equal triumphs raise,
Or sing my great deliverer's praise.
Wesley's contribution, along with the Second Great Awakening in America led to a new style called gospel, and a new explosion of sacred music writing with Fanny Crosby, Ira D. Sankey, and others who produced testimonial music for revivals, camp meetings and evangelistic crusades.
African-Americans developed a rich hymnody from spirituals during times of slavery to the modern, lively black gospel style.
The Methodist Revival of the eighteenth century created an explosion of hymnwriting in Welsh, which continued into the first half of the nineteenth century. The most prominent names among Welsh hymn-writers are William Williams of Pantycelyn and Ann Griffiths. The second half of the nineteenth century witnessed an explosion of hymntune composition and choir singing in Wales.
Some Christians today are using Christian lyrics in the rock music style although this often leads to some controversy between older and younger congregants. This is not new; the Christian pop music style began in the late 1960s and became very popular during the 1970s, as young hymnists sought ways in which to make the music of their religion relevant for their generation.
This long tradition has resulted in a rich lode of hymns. Some modern churches include within hymnody, the traditional hymn (usually addressed to God), praise choruses (often sung scripture texts) and gospel (expressions of one's personal experience of God). This distinction is not perfectly clear; and purists remove the second two types from the classification as hymns. It is a matter of debate, even sometimes within a single congregation, often between revivalist and traditionalist movements.
Some Christian hymnists and their more well known hymns are:
Thomas Aquinas : Pange Lingua, Verbum Supernum Prodiens
Tommaso da Celano : Dies Iræ
William Cowper : There Is a Fountain Filled with Blood
Fanny Crosby : Blessed Assurance and 8,000 others
Paul Gerhardt : O Sacred Head, Sore Wounded
Martin Luther : A Mighty Fortress is Our God
John Newton : Amazing Grace
Dan Schutte : Here I Am, Lord
Joseph M. Scriv­en : What a Friend We Have in Jesus'
Knowles Shaw : Bringing in the Sheaves'
Timothy Dudley-Smith : Tell Out My Soul
Eliza R. Snow : O My Father
Isaac Watts : When I Survey the Wondrous Cross, Joy to the World
Charles Wesley : Christ the Lord Is Risen Today, Hark, The Herald Angels Sing,
Love Divine, All Loves Excelling, O for a Thousand Tongues to Sing, many others
John Greenleaf Whittier : Dear Lord and Father of Mankind
Christian hymns, especially in more recent centuries, were often written in four-part vocal harmony. Today, except for choirs and more musically inclined congregations, hymns are typically sung in unison. In some cases complementary full settings for organ are also published, in others, organists and other accompiansts are expected to mentally transcribe the four-part vocal score for their instrument of choice.
"The Cross" 91.7 FM Hannibal Missouri
Gospel music may refer either to the religious music that first came out of African-American churches in the 1930's or, more loosely, to both black gospel music and to the religious music composed and sung by white southern Christian artists. While the separation between the two styles was never absolute — both drew from the Methodist hymnal and artists in one tradition sometimes sang songs belonging to the other — the sharp division between black and white America, particularly black and white churches, kept the two apart. While those divisions have lessened slightly in the past fifty years, the two traditions are still distinct.
In both traditions, some performers, such as Mahalia Jackson have limited themselves to appearing in religious contexts only, while others, such as the Golden Gate Quartet and Clara Ward, have performed gospel music in secular settings, even night clubs. Many performers, such as the Jordanaires, Al Green, and Solomon Burke have performed both secular and religious music. It is common for such performers to include gospel songs in otherwise secular performances, although the opposite almost never happens.
Although predominantly an American phenomenon Gospel music has spread throughout the world including to Australia with choirs such as The Elementals and Jonah & The Whalers and festivals such as the Australian Gospel Music Festival. Norway is home to the popular Oslo Gospel Choir.
Origins (1920s – 1940s)
What most people would identify today as " — African-American religious music based on large church choirs, featuring virtuoso soloists —" began very differently eighty years ago. The gospel music that Thomas A. Dorsey, Sallie Martin, Dr. Mattie Moss Clark, Willie Mae Ford Smith and other pioneers popularized had its roots in the more freewheeling forms of religious devotion of "Sanctified" or "Holiness" churches — sometimes called "holy rollers" by other denominations — who encouraged individual church members to "testify," speaking or singing spontaneously about their faith and experience of the Holy Ghost and Getting Happy, sometimes while dancing in celebration.
In the 1920s Sanctified artists, such as Arizona Dranes, many of whom were also traveling preachers, started making records in a style that melded traditional religious themes with barrelhouse, blues and boogie woogie techniques and brought jazz instruments, such as drums and horns, into the church. It is also important to note that gospel music is not just a form of music. It is an intricate part of the religious experience for many church-goers.
"The Cross" 91.7 FM Hannibal Missouri
Southern Gospel is a country music gospel art form with emphasis on steel and rhythm guitars as its foundation. It draws on bluegrass, blues, and hillbilly elements. Southern gospel groups tend to use four-part harmony with a high tenor and baritone. The Happy Goodmans, the Speers, and Gold City are examples.
Southern gospel music is a popular form of Christian music, originating in the 1920's. Southern gospel is often called "quartet music" by gospel fans, due to most Southern gospel being performed by a tenor-lead-baritone-bass quartet make-up. Traditional quartets are usually accompanied only by piano. Some of its roots are found in the publishing work and "normal schools" of Aldine S. Kieffer and Ephraim Ruebush. It was promoted by traveling singing school teachers, southern gospel quartets, and shape note music publishing companies such as the A. J. Showalter Company (1879), the James D. Vaughan Publishing Company and the Stamps-Baxter Music and Printing Company. Southern gospel is an eclectic musical form, with groups singing black gospel-influenced songs, traditional hymns, a capella songs, country gospel styles, and the difficult 'convention songs'.
Convention songs begin with the quartet beginning in harmony, and then all four members of the quartet break into singing a different part. The quartet then falls back into harmony on the last line of the verse and sings the chorus. They are known as 'convention songs' because they were invented by quartet training centers like the Stamps-Baxter School Of Music as a way to teach quartet members how to concentrate on singing their own part. Examples of convention songs are "Heavenly Parade", "I'm Living In Canaan Now", and "Delivered Out From The Hands Of Pharoah".
Southern gospel also drew much of its creative energy from the Holiness movement churches that arose throughout the south in the first decades of the twentieth century and that created new music, in addition to the traditional hymns of the eighteenth and nineteenth centuries, to accompany their new forms of worship.
Some early country gospel artists, such as The Carter Family and The Cook Family Singers, achieved wide popularity through their recordings and radio performances in the 1920s and 1930s. Others, such as Homer Rodeheaver, Cathedral Quartet, George Beverly Shea or Cliff Barrows, became well-known through their association with evangelists such as Billy Sunday, Rex Humbard or Billy Graham.
Among the best known southern gospel male quartets are The Blackwood Brothers, the Cathedral Quartet, J. D. Sumner & The Stamps Quartet, the Statesmen quartet the Jordanaires, the Imperials, Gold City, the Kingsmen, the Gaither Vocal Band, the Florida Boys, the Masters V, the Inspirations and the Oak Ridge Boys. Groups like the LeFevres opened the way for mixed quartets and groups where families began traveling the road. Famous mixed groups include the The Happy Goodman Family, the Hinsons, the Talleys, the Martins and the Bill Gaither Trio. In the last couple decades, many trios began touring like Greater Vision, the Bishops and the Perry Sisters along with many other performers that set out on their own as soloists (and talented song writers) like Squire Parsons, Kirk Talley, David L Cook, Ivan Parker, and Walt Mills.
The style of music now known as southern gospel music has been around since the 1950's and is generally known as classic gospel music. Southern Gospel Music has made a tremendous revival in popularlity thanks to the efforts of Bill and Gloria Gaither and their Homecoming Friends which began as a Homecoming Reunion of many of the best known and loved SGM groups back in the 1980s. This style is still sung by some groups and has fans in all age ranges mostly in the United States but also in many foreign countries like Ireland, Australia, etc. The Contempory Christian Music field was begun in part by a famous Southern Gospel Group called The Imperials which was formed by Jake Hess.
The Gospel Music Association is a major group of gospel artists who maintain a hall of fame covering all aspects of gospel music. There are still a few terrestrial radio stations whose format is Southern Gospel music but most SGM stations are internet only stations.
Over the last decade, a newer version of Southern Gospel has come to light. This style is called Progressive Southern Gospel and is characterized by its use of more contemporary lyrics and musical arrangements.*
*some excerpts From Wikipedia, the free encyclopedia
"The Cross" 91.7 FM Hannibal Missouri
Michael Wortman AKA: "Mike @ The Mic"
Where were you born? Jacksonville, IL.
Where did you grow up? Quincy, IL.

What did you want to do when you grew up? I had many aspirations as a child, but the one that stands out and that is still dear to me would be " Forest Ranger ." I love nature.

Are you married? Yes, my wife's name is Brenda, and we were married in 1993.

How did you meet your mate? We met at a home Bible study group (Read Matt. 6:33).
Do you have any children? Yes, and they are: Kelly, Michelle, Joshua, & Hannah. I also have one granddaughter, Kyra.

What do you think about Jesus Christ? I was headed in the wrong direction before JESUS came into my life. HE has completely transformed my life, and that work, which is continuing, began in 1989.
Tell us some ways God has blessed you. First and foremost, HE gave me a new heart. In doing so, I was delivered from drugs and alcohol, and in time my financial abilities were restored. I have a wonderful family at home, and a church family that is always there for me. The answer to everything is CHRIST in you, the HOPE of GLORY.
Bible verses that mean a lot to you? 2 Corinthians 5:17 , Lamentations 3:22 & 23 , Ephesians 2: 8 & 9 , 1 Corinthians 1:26-31 , Acts 1:8 , Revelation 3:7-12.
How did you get started in broadcasting? In 2001, my pastor Ken Geisendorfer, who is also the Vice-President of Believer's Broadcasting, offered me a position at WTJR TV. At that point, I had been in my present job for over 18 years. I was a supervisor and had a lot of seniority, benefits, and was very comfortable where I was. When Ken offered me the job, I immediately began to fast and pray about it. GOD began to reveal to me that everything HE calls us to do will be done in faith. Abram was called to leave the land of his father to go to another land that GOD had called him to. That took faith, to leave everything and follow GOD. I knew in my heart I was to leave the familiar, the comfortable, and put my trust in GOD. I knew nothing about TV or Radio, my only qualification being, I was willing to obey. God opened a door and I walked though it. I spent the first four months going door to door with bowtie antennas telling everyone about Christian TV. I recorded stopping at 1400 homes during that period. It was a great experience. I got to meet, witness, and pray with a lot of people. From there I went on to manage the TV station, and as time progressed, I became manager over it all. Now I manage only radio, as Believer's Broadcasting sold WTJR to CTN in June 2006. I'm still walking this thing out, ever learning and looking to JESUS for direction. One thing I've learned is that GOD is extremely patient, because HE has been with me.

What is your favorite southern gospel radio station? What a lame question to ask me!

What is your favorite southern gospel song or music group? I'm partial to four groups: The Hoppers, The Talley Trio, The Easters, and The Isaacs.

What food do you really like? I love good soup & salad along with bread. Steak is a favorite, too!
What is your favorite animal? A faithful dog. They don't care what you look like, or the mistakes you've made, and are always happy to see you. They will risk their own lives for their master.
What is your favorite movie? Meet John Doe.

What is your favorite TV show? At this point in my life, I try to stay away from all TV. While praying, I felt The LORD say to my heart, " If you've got time to watch TV, you've got time to read the Bible or pray ."
What is your favorite book that you have read? I only have time to read the BIBLE and books related to the study of it.
What are your hobbies? Camping and hiking are big on my list. Every chance I get, I go camping (which includes RV'ing).

What do you like to do in your spare time? Spend it with my family.

What are your interests? JESUS said, "Whosoever will come after me, let him deny himself, and take up his cross, and follow me." ( Mark 8:34 ) I'm interested in that, and it is a battle.
Any other comments:
JESUS is in the business of changing lives. If you ever meet HIM, truly meet HIM, and accept HIM as your LORD, HE will change your life! HE gave me a new heart, of which I am a witness, and HE will give you a new heart, if you want it. HE is no respecter of persons ( Acts 10:34 & 35 ). The formula for this can be found in Acts 2:37-40, and always begins with repentance.
"Repent, and be baptized every one of you in the name of JESUS CHRIST for the remission of sins, and ye shall receive the gift of THE HOLY GHOST." Acts 2:38.
"The Cross" 91.7 FM Hannibal Missouri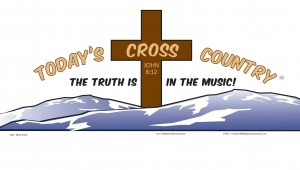 Today's Cross Country hosted by Marty Smith, features 1 hour of Christian Country Music. Each week features an interview with a Christian Country Artist.
Airs Saturdays at 8PM.
http://todayscrosscountry.com/
B. H. Clendennenwas an ordained minister of the Assemblies of God for fifty five years. In 1992, Br. Clendennen and his wife moved to Moscow, Russia and started the School of Christ. In 2 years, over 2,000 churches were started in Russia. In less than 18 years, the School of Christ has went into over 150 countries preaching the gospel. B.H. Clendennen can now be heard doing the School of Christ Monday's at midnight for the Midnight Cry Program.
In The Market With Janet Parshall In The Market with Janet Parshall is a live one-hour listener call-in program that challenges listeners to examine major news stories and issues being debated in the marketplace of ideas and speak to them with the Word of GOD. In this fast-paced, caller-driven program, Parshall will evaluate newsworthy topics with guests and listeners using the Bible as a framework for discussion. This program airs 4 to 5 p.m. CT weekdays and addresses relevant issues important to Christian believers, with an exciting mix of listener interaction and commentary from highly respected guests.
AFR Radio network
Americian Family Radio (News)


Unshackled
Real people…real life stories…stirring, dramatic accounts of hopelessness, and the hope that changes everything. "UNSHACKLED!" the award-winning radio drama from Pacific Garden Mission in Chicago, grips the heart with compelling and relevant stories of transformed lives.
With Host John Sentell visit
website
"You shall know the truth and the truth shall make you free" John 8:32.
The people who attend Times Square Church have an expectation to hear the pure and uncompromised Word of God and to experience his presence. Those who preach from this pulpit have sought the Lord through prayer and through his Word. There are five services each week. No sermon is ever repeated, and no program is followed, except what the Holy Spirit himself leads.

David Wilkerson
World Challenge, Inc was founded by Reverend Wilkerson in 1971. The ministry's mission is to promote and perpetuate the message of Christ through public teachings.
LIVING WATERS CHURCH of CHINO,CA – Pastor Duke Downs
We are a mission minded church that believes in praying, supporting, and going into all the world to PREACH THE GOSPEL.
"The Cross" 91.7 FM Hannibal Missouri
KJIR Radio produces a Christian Community Calender of Events. Highlighting events in the local area. This airs Monday-Friday 7:30am & 6:30pm, Saturday 12:00pm & 2:00pm. Events of a Christian, Family, and of Help to the Community are accepted.
Please send all Local events "ATTN COMMUNITY CALENDAR" via email by selecting the contact us link here on the left side of our website or mail to:
KJIR Radio – PO Box 1189 – Quincy, IL 62306 or you can fax it to us at 217-228-0966
"The Cross" 91.7 FM Hannibal Missouri
Underwrite
What is Underwriting?
The F.C.C. authorizes non-commercial stations to acknowledge gifts or grants from businesses who underwrite specific programs or portions of our programming. Recognition of those gifts on the air is referred to as an underwriting message.
Who can Underwrite?
Businesses, Churches or Organizations who want to support the Christian radio ministry of KJIR by underwriting or sponsoring a portion of our program can receive "on air" acknowledgment of their support through an underwriting announcement.
What does it include?
* An underwriting announcement includes:
* Name of the business
* Address
* Phone number
* Years in business
* Generic list of products and/or services provided
Why Underwrite On Radio?
* It reaches people in their home, vehicle and business.
* It's mobile, reaching people just before they enter the store.
* The production cost is low compared to television.
* 77% of all adults tune in to radio for more than three hours every day.
Why Underwrite On Christian Radio?
* Christian radio listeners ascribe an incredible amount of loyalty to their station. Many Christian radio listeners listen exclusively to Christian radio. For this reason they tend to support those merchants who support their station.
* Christian radio is a message-oriented medium. In a day when radio stations are nothing more than background mediums, people tune to Christian radio for the message it conveys.
Interested in becoming a underwriter please contact us:
"The Cross" 91.7 FM Hannibal Missouri

KJIR "Cross Radio" Southern Gospel Music
Phone number:  217-221-9410
Email:  Contact form below
Mail: KJIR, PO Box 1189, Quincy, IL 62306
Studio/shipping location: 220 North Sixth Street, Quincy, IL 62301 
Map to our studio
KJIR is a non-profit Christian radio station, and donations are welcome. Most of our support is from Listeners like you! Please send your donations to the address listed above.
Your email to KJIR is very important to us and shall not be used for any other purpose but correspondence with KJIR radio.
Comments or questions are welcome.
« Previous Articles